MAY 2020 
ISSUE
---

Please consider making a donation to your Society. Your donations will help us to improve the lives of people throughout the world through Patient Blood Management.
---
SABM 2020 Newsletter Publication 
Editor: Kevin T. Wright
Associate Editor: Majed Refaai, MD
Contributors for This Issue
Christine Cahill, RN, MS
Ann Marie Gordon, PA-C, MLS (ASCP)
Beverly Khaek-On, BSN, RN
Mary Ann O'Brien, RN, MSN, CCRN, CNE
Sherri Ozawa, RN
Seth Perelman, MD, FASA
Majed Refaai, MD
Cassandra Upchurch, RN
Sarah Walbolt, BSN, RN
Kevin T. Wright
Marketing
Tim Bower, CAE
---
© 2020 Society for the Advancement of Blood Management
19 Mantua Road
Mt. Royal, NJ 08061 USA
Phone:
 (928) 551-6400
Fax:
 (877) 944-2272
EMAIL:
[email protected]
Welcome to the SABM Spring Newsletter!
During the past few months, we have all been significantly impacted by the COVID-19 pandemic. SABM leadership has endeavored to keep in touch with you and we have seen a level of resilience that is inspiring.
In this edition of the SABM Newsletter we provide a lengthy report on COVID-19 that you will find informative. Of course, preoperative anemia continues to be an area of focus due to the variation in practice among clinicians and you will find much useful information herein, including a Pre-operative Anemia overview, also a report on the Monoferric® intravenous iron product. Treatment options for anemia can be especially helpful to clinicians who are now managing patients during a pandemic.
SABM encourages members to seek opportunities for greater implementation of PBM. For example, in this issue we report on pediatric PBM developments, an area of interest that will surely benefit the littlest patients who also need the best of care. Further, with the advancement of PBM initiatives worldwide, it is a pleasure to report on the first SABM translation project, a translation of SABM Clinical and Administrative Standards into the Korean and Portuguese languages, a thrilling prospect indeed.
It is quite encouraging to see the enthusiasm for PBM initiates so please be sure to send us your goals and accomplishments, also the challenges you have faced at this time as well as suggestions for future topics.
We trust that all of our members will continue to exercise appropriate caution as areas around the world now begin to reopen—we send our best wishes to you!
Sincerely,
Kevin T. Wright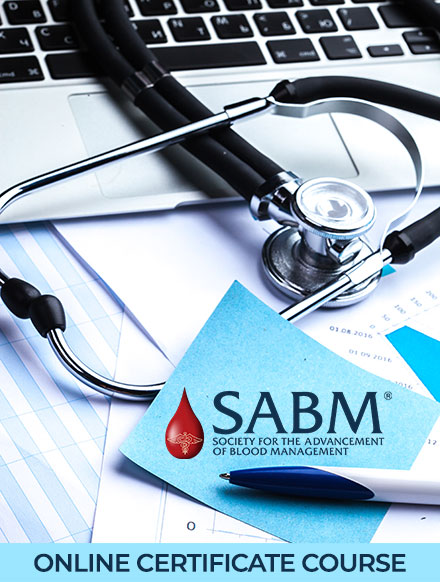 ---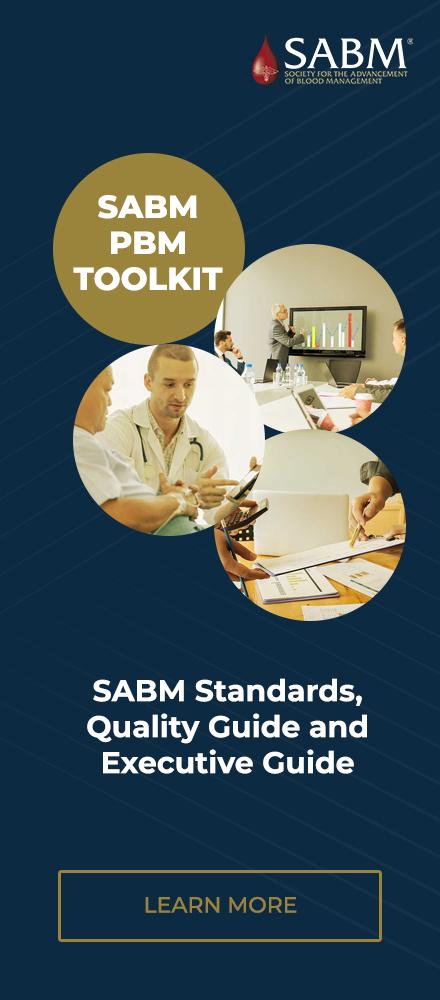 ---
---

Consider submitting your future manuscripts in PBM for peer review and publication in this new section. The success of this endeavor will depend on the provision of material to make it lively and attractive to our colleagues and other professionals in the field.

Members Invited to Submit Papers CLICK HERE