SUMMER 2017
ISSUE
The Society for the Advancement of Blood Management (SABM)
invites healthcare organizations worldwide to participate in this week dedicated to educating patients and healthcare professionals about patient blood management.
---
SABM 2017 Newsletter Publication Schedule
February | May | August | November
Editor
Carolyn Burns, MD
Associate Editor
Tiffany Hall, RN
Contributors
Carolyn Burns, MD
Nabil Hassan, MD
Tiffany Hall, RN
Mary Ann O'Brien RN, MSN, CCRN, CNE
Becky Rock, RN
Kevin Wright
Zac Zahara, MBA and team

Transition Director
Sherri Ozawa, RN
Welcome to the Summer Newsletter!
We are well into summer and with this brings the anticipation of our Annual Meeting in September. This year's events in beautiful Portland, Oregon, will see SABM truly Rising to the Summit as the theme states. The leadership teams and committee members hope to see you all there for networking, learning and collaboration.
Be sure to secure your spot for not only the full meeting with its broad range of educational and interactive offerings, but also, save your place in the Certificate Course with its updated topics for PBM programs.
The Annual Meeting agenda includes presentations on PBM strategies in CV surgery, validation of a new proposed bleeding scale, ethical and legal issues in PBM as well as the much-loved PBM Nightmare Case Studies. There will be breakout sessions for administration, anemia management, coagulation, surgery/anesthesia and a new session for perfusion interventions. Plenary sessions will include the recently completed WOMAN Trial, the Pediatric Transfusion Group guidelines, and much more. The abstract sessions will feature our members' latest research, so come support your colleagues in their endeavors. Hospital affiliates, including our platinum sponsor and host hospital, Legacy Health, and our Dinner Cruise Sponsors, Oregon Health & Science University and Peace Health, will join us as well. And, never forget the opportunity to speak with a host of vendors who feature much-needed technologies and so kindly help SABM with their support.
Additional exciting events will feature updates on our SABM Administrative and Clinical Standards for Patient Blood Management Fourth Edition 2017 and our recent efforts to align ourselves with the national Choosing Wisely® campaign. Our keynote speaker is Dr. John Adamson, renowned PBM advocate and founding member of SABM. Don't miss out on hearing his thoughts on PBM, where we have been, and where we are going.
Of course, it's not just about the work, right? Please join us for a lovely dinner cruise event on Friday evening! A great way to kick back with each other and enjoy the views of Portland. The hotel venue provides a lovely space to connect with friends over coffee or cocktails.
Mentors, get with your mentees. Hospital affiliates and individual members, reach out to other members you know. Bring a friend, perhaps someone new in the world of PBM that could begin garnering the benefits of this professional society. So, click HERE for registration and get ready for a fabulous event.
See you there!

Best, Dr. Carolyn Burns
PBM for Patient Blood Management Section

Save the Date for SABM's Annual Meeting
September 7 – 9, 2017
Hilton & Executive Tower
Portland, Oregon
PBM Certificate Course
September 6, 2017
7:00am – 6:00pm
Annual Meeting
September 7 – 9, 2017
Consider submitting your future manuscripts in PBM for peer review and publication in this new section. The success of this endeavor will depend on the provision of material to make it lively and attractive to our colleagues and other professionals in the field.
Members Invited to Submit Papers CLICK HERE
---
Join SABM's Call to Action for Medicare to Expand Coverage for Treatment of Anemia!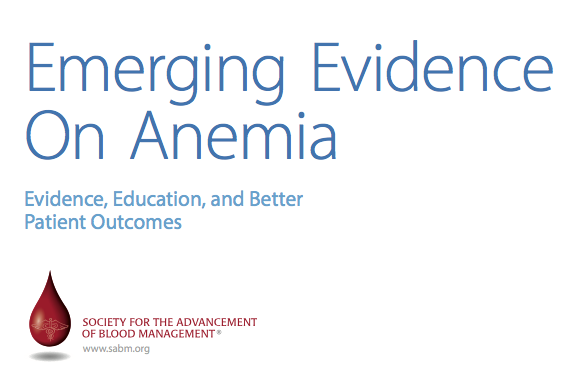 Click
HERE
for detailed information about what you can do to get involved.
---
© 2017 Society for the Advancement of Blood Management
350 Engle Street
Englewood, NJ 07631