SPRING 2017
ISSUE
The Society for the Advancement of Blood Management (SABM)
invites healthcare organizations worldwide to participate in this week dedicated to educating patients and healthcare professionals about patient blood management.
Download SABM's
Patient Blood Management Awareness Week 2017
Poster and Timeline
---
Please consider making a donation to your Society. Your donations will help us to improve the lives of people throughout the world through Patient Blood Management.
SABM 2017 Newsletter Publication Schedule
February | May | August | November
Editor
Carolyn Burns, MD
Associate Editor
Tiffany Hall, RN
Contributors
Arthur Bracey, MD
James Brown, MHA, CCP
Carolyn Burns, MD
Elizabeth Dackiw, RN
Nabil Hassan, MD
Tiffany Hall, RN
Becky Rock, RN
Kevin Wright
Meredith Reyes, MD
Ananthi Krishnamoorthy
Executive Director
Sherri Ozawa, RN
Letter from the President

Welcome all members,
For the spring newsletter edition, I wish to focus on two features I feel truly show SABM's influence in the national and international PBM arena:
First, save the date and join us for the 2017 Annual Meeting in Portland, September 6 - 9, 2017. The Annual Meeting theme is "Rising to the Summit" and is so fitting for our organization as we continue to have outstanding speakers and content covering an array of important PBM topics. Included in the agenda, once again, is the exceptional and ever-growing Certificate Course. No other professional society provides such a high quality course. Encourage your fellow members to attend and become official certificate "grads". And, please note that abstracts are being accepted. We love hearing and seeing what your programs have accomplished. This is an opportunity to share your programs' outcomes.
Second, pursuant to research, be certain to review the featured articles in the Breaking Clinical News subsection. This will be an ongoing item in the newsletter of which I am personally so excited. There are many of our members publishing great work, whether in Anesthesia & Analgesia, Critical Care Nursing, or in other renowned journals and texts. We congratulate you on your PBM efforts that add to this body of literature.
SABM membership continues to grow and thrive. We can keep this momentum going as we proceed through the year, holding on to the exceptional standards, evidence-based, patient-centered practices and publications that reflect the energy of this society.
Thank you for your continued excellence and service,
Dr. Nabil Hassan
Save the Date for SABM's Annual Meeting
September 6 – 9, 2017
Hilton & Executive Tower
Portland, Oregon
PBM Certificate Course
September 6, 2017
7:00am – 6:00pm
Annual Meeting
September 7 – 9, 2017
Join SABM's Call to Action for Medicare to Expand Coverage for Treatment of Anemia!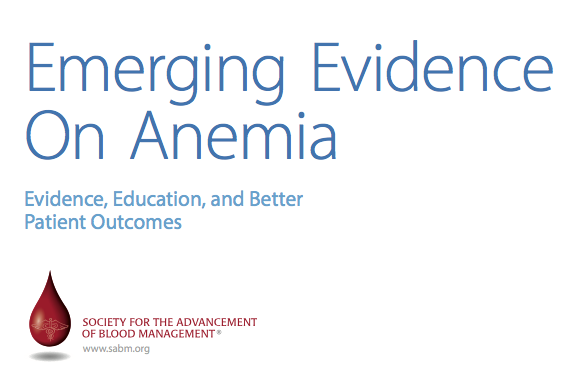 Click
HERE
for detailed information about what you can do to get involved.
---
©2017 Society for the Advancement of Blood Management
350 Engle Street